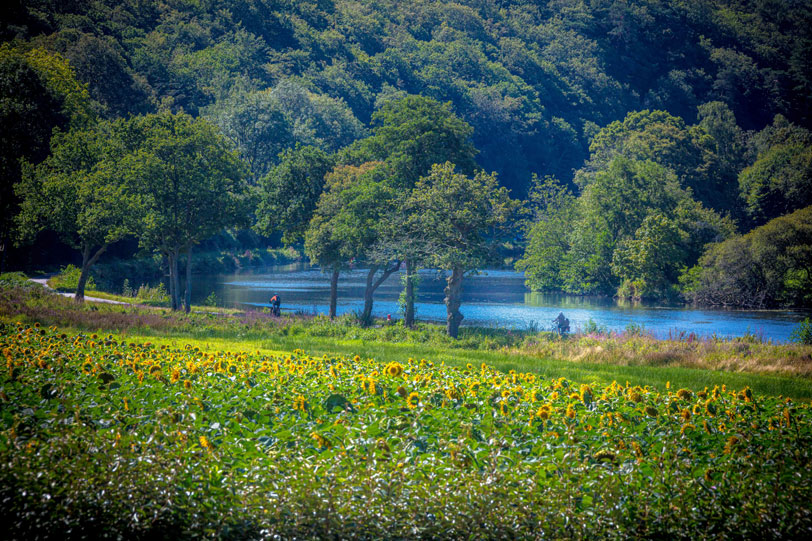 With the Tour de France being one of the biggest sporting events on the summer calendar every year, many cyclists get into the spirit of the event and head out on their own down the quiet roads in Brittany, or along the seemingly endless towpaths beside the main rivers of Brittany. 
Have you ever thought about a biking holiday in France? Cycling in rural France can be an absolute delight.
The River Blavet runs for 148km through the picturesque Breton countryside and our four stunning thatched cottages at La Garenne are serenely situated right next to the River Blavet cycle path, which traverses 58km of flat ground, surrounded by greenery and stunning vistas on every meander of the river along the way. 
Why not bring your road bike to La Garenne this summer and enjoy cycling for miles in the morning by the River Blavet, before returning to your charming Breton thatched cottage for a fresh lunch from one of the many local markets in the region and a bottle of crisp rosé?
The markets at Vannes, Hennebont and Auray are all certainly well worth a visit and you could even easily cycle to one of them in the morning for a stint of exercise and a French patisserie comme petit déjeuner!
The Tour de France, affectionally known as "Le Tour", has passed through Brittany and close to La Garenne on several occasions, so you can easily cycle along the same roads as le peleton and pay homage to what is one of, if not the world's toughest, most gruelling endurance sporting events. 
However, when on holiday, you have the option of racing on the roads or simply cruising along the same roads at your own leisure; before taking a dip in our outdoor heated swimming pool and relaxing in La Garenne's beautiful gardens, soaking up the magnificent views and looking out for the local wildlife. Our location is sublime and the river views are breath-taking. Our peaceful, idyllic gardens are the perfect place to recover after a day out and about or out for a spin. 
If you are driving to France and taking the ferry, you could bring your own bikes; if you are flying or wish to travel lighter, renting bikes from Blavet Cyclo, which is located only a few minutes from La Garenne, is a super option. 
Blavet Cyclo offers a range of touring bikes, they drop them them off at La Garenne and will pick them up after your stay. You also have an option to hire a child's seat if you are considering taking toddlers touring too. Childrens' bike hire is also available. Just pack your helmets and you are good to go.
Allez!
Spend your summer break in beautiful Brittany in one of our stunning, thatched, traditional Morbihan cottages.