7 Luxury Lake District Cottages Sleeping 2 to 10 | Bridge End Farm, Eskdale
Escape the strains and stresses of modern living by renting one of our personally owned and professionally run 4 and 5 star rated self-catering holiday cottages in the Lake District, where you have the freedom to choose your own pace with every home comfort. Discover the many things to see and do at this beautiful location or simply relax, unwind and enjoy the stunning scenery.
The photo below was taken from the hill above Boot showing the village, the beautiful green valley and Harter Fell in the background. You can see how dramatic the setting is, with Boot village and our Lake District cottages surrounded by glorious fells, rivers, waterfalls, lakes and mountains.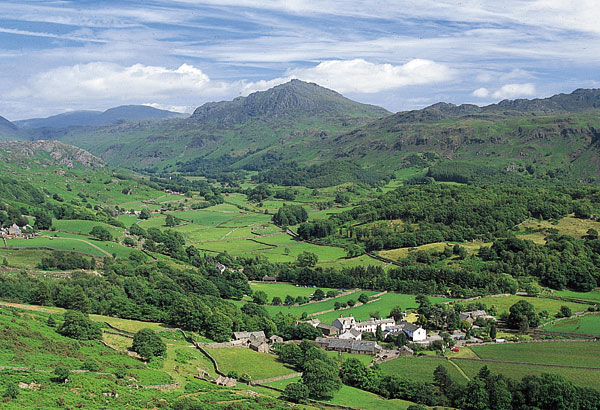 Luxury Lake District cottages for large groups and families
Are you a large party looking for a luxury escape to the Lake District? Come and experience the Eskdale Valley in the heart of the National Park by renting all seven of our stunning 500 year old cottages at Bridge End Farm. We can accommodate up to 32 adults plus an extra four children in foldaway beds as well as cots across the seven charming luxury Lake District cottages. Individually, our cottages sleep 2-10, so we can confidently provide a cottage to suit the needs of any age and interest within your group!
Experience the Eskdale Valley and our luxury Lake District cottages in our quiet, quaint corner of the Lake District National Park
The cottages themselves are a collection of stylishly renovated and restored Elizabethan Grade II listed barns plus the original adjoining Farmhouse. They are graded 4 and 5 star and have won several self-catering awards. We have taken special care to preserve all their unique historical features characteristic of the area and era, including the oak beams, pink granite walls, wooden floorboards and dry stone walls. Our prices are all inclusive and we offer all modern comforts including Free WiFi, full Sky TV, plus collections of DVDs, books and games for children.
Boot village has two pubs within walking distance of the cottages, both serve excellent food and a selection of real ales. There is plenty to see and do nearby for all ages and levels of athleticism, with England's highest mountains on our doorstep in addition to countless gentle walks following rivers and streams, you will be spoilt for choice!
John Ruskin wrote of Eskdale as the "Gateway to Paradise" whilst Alfred Wainwright, the famous Lakeland author, described Eskdale as a "perfect Arcadia in the hills - the finest of all valleys." Come and experience it yourselves!
Sleeps: 8 + cot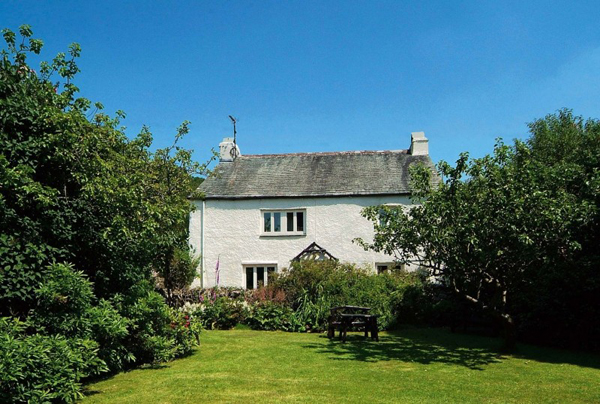 Bridge End Farmhouse is our five star superbly renovated and restored Elizabethan cottage. It is separate from the other cottages, with its own private walled garden and unique interior, which has been immaculately preserved. Inside, you will find the original flag stone and oak flooring, Jacobean court cupboard and thick pink granite stone walls, as well as oak beams.
Downstairs there is a spacious, fully fitted kitchen, large living room with wood burning stove (we supply ample wood for all our guests), oak panelled dining room and recently renovated wetroom. This luxury cottage is perfect for larger groups, with four bedrooms upstairs and an additional two bathrooms. There are two double bedrooms with kingsize beds, one with ensuite bathroom adjacent, and two twin bedrooms. The family bathroom has a shower and separate claw foot bath. 
Outside you can enjoy a afternoon tea or BBQ beneath the fells in the seclusion and peace of your own garden.
Our largest and potentially oldest Lake District cottage sleeps 9 + child + baby, perfect for large families and groups!
Sleeps: 8/9 + cot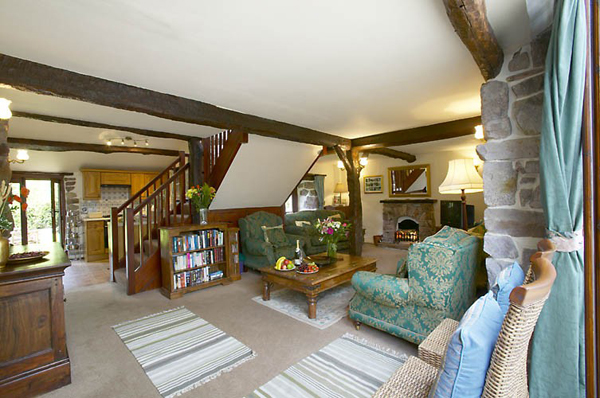 Scafell is our largest luxury cottage at Bridge End Farm. It was formerly the main barm and you can still see the full height of the original barn doors, which we have maintained in our renovations, creating a double glazed facade to its entrance, allowing the cottage to be filled with natural light when the sun is out. This cottage is named after Scafell, England's second highest mountain, which you can walk up from the cottages themselves. We have preserved the full height of the ceiling, creating an extremely spacious downstairs, with living, kitchen and dining areas adjoined.
For the elderly or those with limited mobility, we have one downstairs bedroom with ensuite bathroom. The main family bathroom is also situated downstairs, making it easier for those with young children. Upstairs is divided into two sections with separate staircases, one has a twin and triple bedroom, the other has a large double bedroom with kingsize bed and luxurious ensuite bathroom. All our bathrooms have recently been fitted and restyled, so you can enjoy the best treatment after a day exploring or out and about on the fells. If you are interested in experiencing our new Spa Service at Bridge End Farm please enquire.  It will no doubt be the perfect compliment to your stay.
Brace yourself as you enter the magnificent 30ft living area of this character 4 bedroom Lake District cottage perfect for families and groups of friends!
Sleeps: 6/7 + cot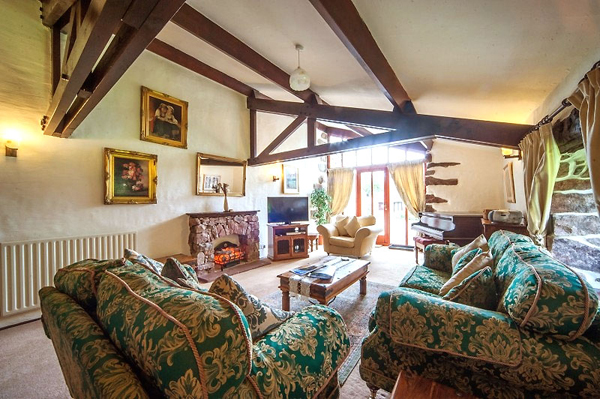 Wastwater Cottage was named after England's deepest lake, Wastwater, which lies in the valley adjacent to the cottages. You can enjoy a stunning 5 mile walk there from the luxury Lake District cottages, which we can highly recommend! Wastwater Cottage has a stunning interior with the full height barn ceilings preserved and held up by the ancient oak beams. The living and dining areas are combined within this 30ft expanse, in which there is also a baby grand piano waiting to be played. The cottage also houses the original chimney piece, which you will find upstairs in the twin bedroom. Being such a large, spacious cottage, the variety of bedroom and bathroom configurations will undoubtedly provide something to suit all members of your party. All our bathrooms have recently been refitted and restyled in order to ensure the utmost in comfort and luxury when our guests return to their cottages. We are also excited to now to be able to offer all our guests the opportunity to expierence relaxing and indulgent spa treatments at Bridge End Farm. For more information and details of the treatments availble, please visit the Spa Services page.
Romantic, galleried Lake District cottage for 2 with brand new bathroom. Ample space for a foldaway bed and cot, if required. A popular choice amongst honeymooners and couples with young families.
Sleeps: 2 +1 + cot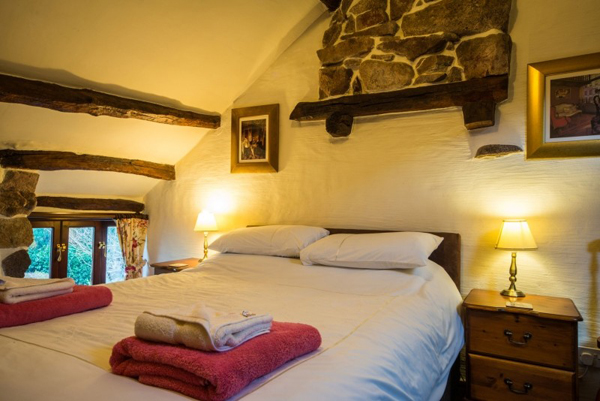 Hardknott Cottage is named after Hardknott Fell, which is situated at the upper end of the Eskdale Valley and is home to Hardknott Roman Fort. The cottage itself boasts the high ceilings and 3ft pink granite walls that it once had 500 years ago. We have made every effort to preserve its original layout, placing the bedroom where the haylofts once would have been and the downstairs bathroom in what would have been a smaller storage room. The open plan downstairs living, kitchen and dining areas provide ample space for toddlers or younger members of the family, enabling parents to keep a close eye at the same time! The kitchen leads out to our delightful riverside paddock, in which you can enjoy breakfast, afternoon tea, or an evening BBQ beneath the fabulous fell views.
Historic, romantic detached Lake District cottage for 2 with brand new marble bathroom.
Sleeps: 2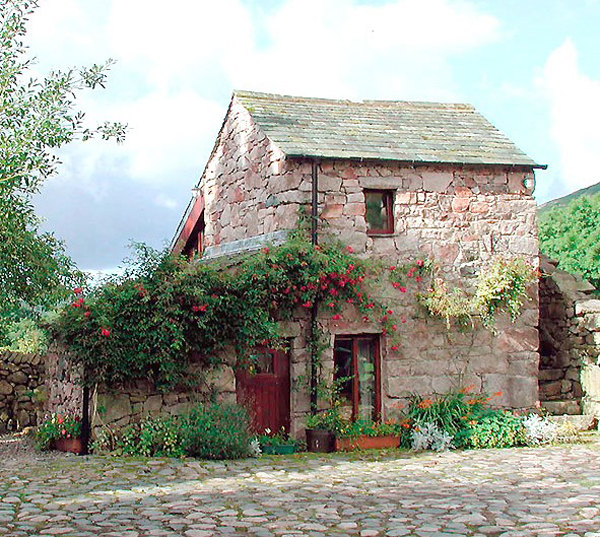 Stanley Ghyll Cottage is named after nearby Stanley Ghyll, an impressive 60ft waterfall just down the road from the cottages. It is a pleasant walk away and well worth seeing during your stay! The cottage itself is unique with all its historic features, original beams and walls still standing. Being detached it is tucked slightly further away from the rest of the cottages so if you are looking for a quiet, private cottage, then Stanley Ghyll may be up your street. If you are a larger group looking to rent multiple cottages, yet you personally are eager to also enjoy some time to yourself, then you can certainly have the best of both worlds here at Bridge End Farm Cottages.
The cottage interior is light, and airy, with double glazed entrance and facade to the kitchen and dining areas. The bedroom has a large kingsize bed and stunning new marble shower room. Upstairs is a cosy snug, with views of the fells, a comfy new sofa and high definition flat screen TV with full Sky channel range.
Adjacent to Stanley Ghyll is a separate walled garden, a delightful spot for afternoon tea, breakfast or a BBQ in amongst the surrounding natural beauty and outstanding views.
A quaint and cosy 1 bedroom Lake District cottage, adjacent to 17th century packhorse bridge over the Whillan Beck, with delightful fell and river views.
Sleeps: 2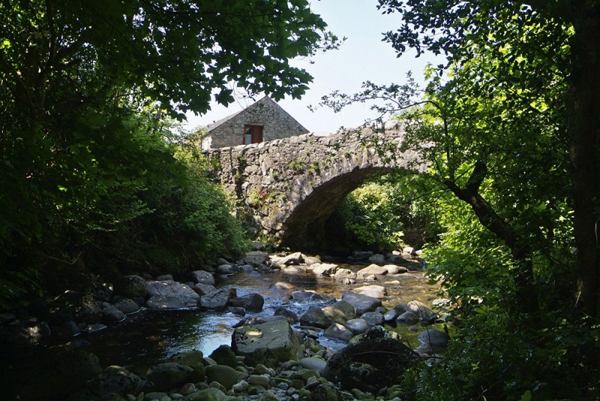 Whillan Beck Cottage is our closest cottage to the river itself, so you can wake up to the sound of the water flowing down the valley and enjoy views from the bedroom of both the fells and the 16th century packhorse bridge that crosses the river. This is our smallest cottage at Bridge End Farm but is by no means less comfortable, so is an excellent choice for couples or individuals looking for a luxurious base to explore the surrounding mountains and lakes.
There is a fully fitted kitchen downstairs as well as dining area and living space, with Free WiFi and full Sky TV, ensuring you have all modern conveniences available in amongst the historic, ancient exterior. The upstairs bedroom and bathroom are private and peaceful, offering the perfect Lakeland escape.
An excellent choice for couples or families with one or two young children.
Sleeps: 2 + 1 +cot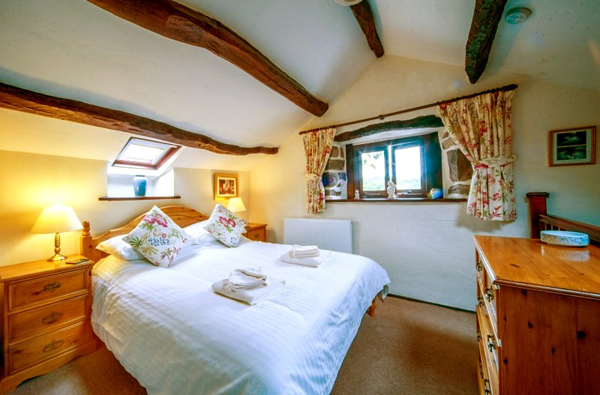 Wrynose Cottage is a spacious 1 bedroom Lake District cottage which can easily accommodate an extra family member or two! Just let us know if you have children or infants as we can supply a comfortable fold away bed or cot if required. The upstairs bedroom has recently been renovated and boasts fabulous fell views as well as the height of quality and comfort, with kingzise bed and luxury linen. Downstairs has exposed ancient beams and thick pink granite walls, with a fully fitted kitchen for any chefs among your party, and a separate living and dining area with full Sky TV and plenty of toys, books and games for children and adults alike! The bathroom will blow you away with its newly fitted sumptuous slipper bath and shower unit.
Whilst browsing our Lake District cottages you will find stunning photos of the accommodation at Bridge End Farm and of the Eskdale Valley and beyond. Included is information about things to see and do in the area. There are also many detailed and informative comments from Bridge End Farm customers, with recommendations for places to eat, things to do and walks (plus some good stuff to say about the cottages themselves!). We pride ourselves on the quality of service we provide and the quality of our Lake District cottages and welcome any feedback.
This is the main booking and availability page, but you can also view availability and book via each cottage.
Tel: +44 (0)7768 664 377,
email info@selectcottages.com, or use the contact form