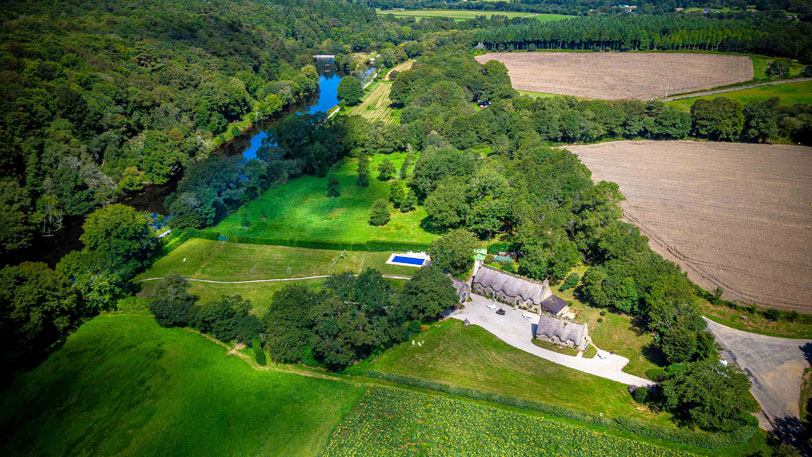 Wild swimming, kayaking, an amazing waterpark and gorgeous heated swimming pool all within 3 minutes of each other! 
At La Garenne in Southern Brittany we have it all!
Set beside the stunningly beautiful River Blavet, our cottages in Morbihan are the perfect place for a relaxing holiday with plenty of activities to keep all ages amused. For those who love a dip in warm water, our gorgeous heated swimming pool is just perfect. 
Take a dip in the warm water then relax on your sun-lounger with a good book or magazine. Our pool is open and heated from mid May to the end of September. So, enjoy a fun packed afternoon in the pool and our gardens with space for football, table tennis, badminton and other activities, before lighting the barbecue and enjoying the long light evenings of Western France. At the same longitude as Devon, whilst an hour ahead of England, it is light at La Garenne until around 10pm for many months of the summer!
West Wake Water Park
Just three minutes' drive from us downstream, beside the River Blavet, is West Wake Water Park. West Wake has the largest collection of inflatables in France. There are slides and obstacle courses, jumps, and challenging floats to negotiate. We've seen all ages from 5 to 65 enjoying the water park. 
Moreover, there is water skiing, wake boarding, paddle boarding on the river and electric boats to hire on the river too! Tired and thirsty from all these exertions, you can grab a soft drink, coffee or something stronger (including Breton ales and ciders) from one of West Wake's two bars and order some delicious food from their restaurant. Everyone loves the water park and you can buy activities by the hour or just chill, relax and watch others having a fabulous time!
River Blavet Wild Swimming
The River Blavet was turned into a navigable river in Napoleonic times and it has locks the entire length of it, so the flow of the river is controlled and almost any spot is ideal for wild swimming. There are signs to say 'no swimming' within around 50 to 100 metres of the lock and weir (depending on whether upstream or downstream), but apart from that, we have had guests wild swimming both upstream and downstream of La Garenne! 
There is actually a pontoon about a kilometre from us and people swim from there too, as well as launch kayaks from there. The river is full of fish and you can spot several families of otters near La Garenne - both upstream and downstream. The best times to see them are at dawn and dusk. There are kingfishers, cormorants, herons and other bird species that live on and around the river. All this beautiful wildlife of course testifies to the cleanliness of the River Blavet and it being well suited for wild swimming adventures. 
A caveat here, of course - swim responsibly. 
Only swim when the river is flowing slowly and not when it is fast flowing, which can happen after a day or two of heavy rain. Swim to your ability - so if you are not a strong swimmer, stick to the water park or swimming pool and we would recommend this is an activity for adults accustomed to and experienced in wild swimming in rivers.
Kayaking the River Blavet
If you have run out of water based activities, and we doubt this will happen, then how about kayaking? Kayaking is also possible on the River Blavet and there is a kayaking centre in Lochrist - just 10 to 12 minutes from La Garenne. You can take a kayak out on the river and experience some man made mild rapids at the kayaking centre. It's a fun afternoon, so grab a pizza or crêpes afterwards in this charming little town.