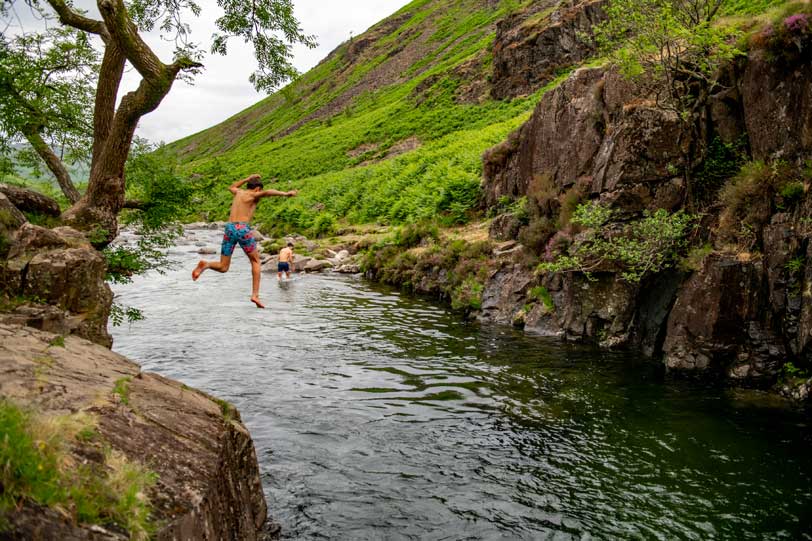 Rock jumping into Tongue Pot, Upper Esk, Eskdale
Wild swimming has really grown in popularity over the last few years, so it is time we wrote a blog about some of the best places for wild swimming in our special corner of the Lake District. 
Eskdale is set beneath the magnificent mountains of Scafell and Scafell Pike - England's two highest mountains. So you are sure to be in for beautiful views, whichever of our cosy cottages you choose. 
Base yourself with us at Bridge End Farm Cottages in the pretty little village, Boot, with its traditional Lakeland Inns and you have countless wild swimming opportunities close by in the rivers, lakes and tarns of the glorious Eskdale Valley. 
Whillan Beck Plunge Pool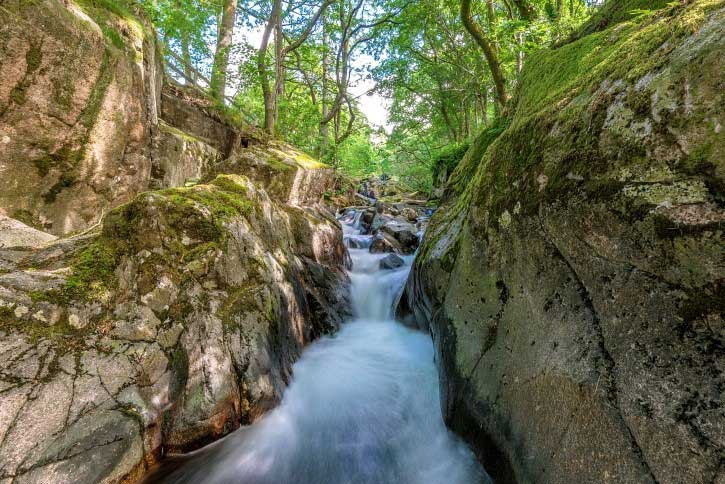 The closest place for wild swimming is just 20 meters from our cottages at Bridge End Farm in Boot, Eskdale. Yes, it's that close! 
Right opposite and the other side of the 17th Century packhorse bridge which we, as our name, 'Bridge End Farm' implies, are next to, is the waterfall plunge pool of the Whillan Beck beside the Eskdale Corn Mill, which is England's oldest working twin wheel water mill. 
Simply stroll up the little lane opposite Bridge End Farmhouse and, after about 20 metres, there is access on the left to the waterfall plunge pool. We have swum in there numerous times over the years and doing so is always exhilarating. Obviously don't swim in the Whillan Beck when there has been heavy rain and this advice goes for many of the river swimming sites in Eskdale. 
Eel Tarn, Stoney Tarn, Blea Tarn and Burnmoor Tarn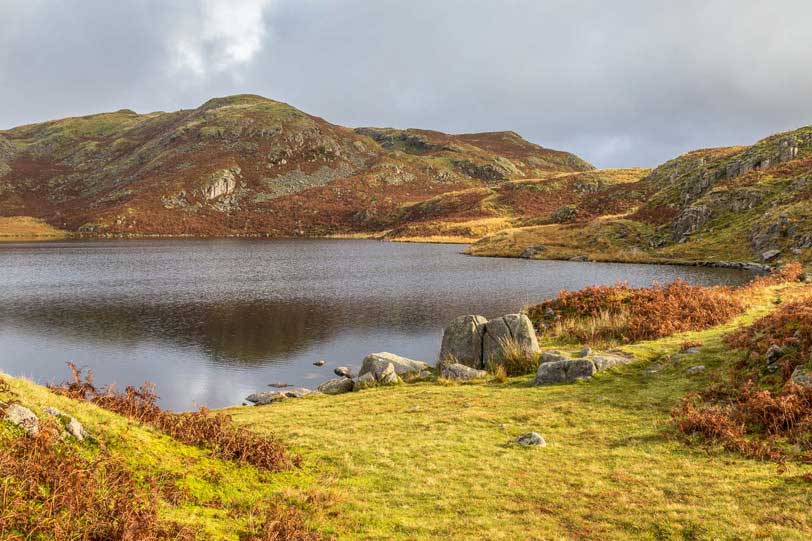 On Harter Fell, above our cottages in Boot, are Eel Tarn, Stoney Tarn, Blea Tarn and, a little further, the expansive Burnmoor Tarn. All are great for swimming in and the short hikes to each are stunning in their own right. We would recommend taking swim shoes or water shoes to give you better grip on slippery rocks and also to protect your feet from any sharp bits. 
River Esk - Trough House Bridge
Eskdale is dominated by the beautiful River Esk and not far from our cottages in Boot are swimming spots at Trough House Bridge (half a mile or 10 minutes' walk) - walk past the train station, turn left by the war memorial and the bridge is another 2 minutes' walk. There are swimming pools just downstream of the bridge. There is also a free car park just beyond the bridge and this is also a brilliant place to see Eskdale's famous bluebell woods in May. 
River Esk - St Catherine's Church stepping stones & Girders Bridge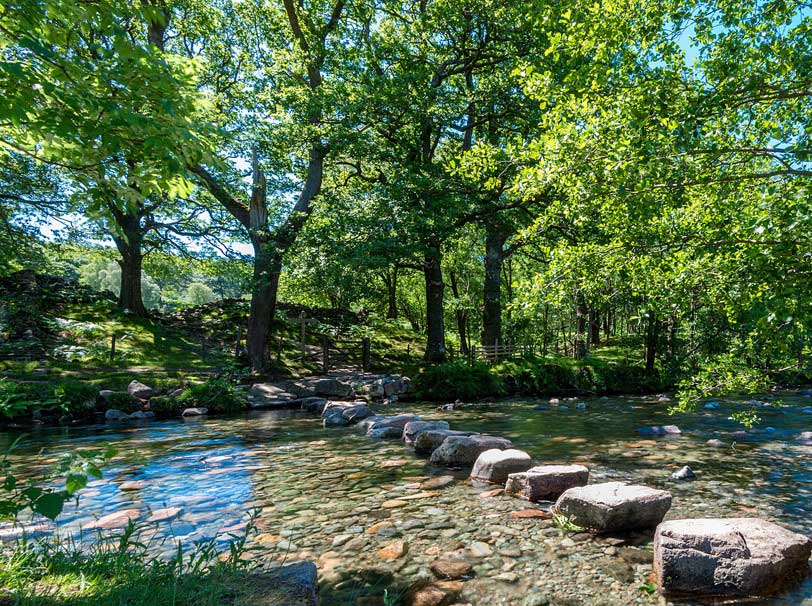 Another great place is near St Catherine's Church and the famous Eskdale stepping stones. This is 10 minutes' walk from your cottage in Boot.
Go to the end of the lane where the Brook House Inn is situated (a great place for a post swim refreshment or two and lunch or dinner), head straight over the road that serves the Eskdale Valley and along the little gravel and tarmac lane.
After about 5 or 6 minutes, you will see St Catherine's Church. The old church and graveyard are well worth exploring. Just beyond here are the stepping stones - sometimes passable if the river is low or if the stones have not been dislodged when the river is high. 100 metres upstream there is a large oak tree whose bows reach right across the river.
There are some great rock pools here for relaxing in, building dams and generally having fun. Hop out of the river and head another 200 metres upstream or swim and crawl up the river bed (yes, we have done this) to the deeper pool just downstream from Girders Bridge, which was built for the old iron ore railway. There is access from the footpath too. When the River Esk is low after a period of sustained dry weather, this is a great place and special part of the River Esk to spend an afternoon.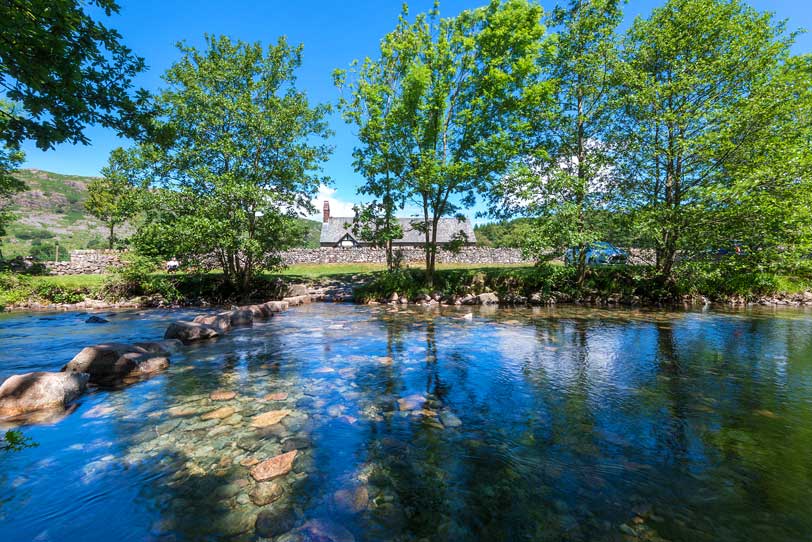 Hiden gem - Devoke Water 
High on Eskdale Moor is Devoke Water - the Lake District's largest tarn. There is parking close by and this is around a 10 to 15 minute drive from us, followed by a 10 minute walk. This enormous tarn is hardly visited, but is a great hike around or a swim in.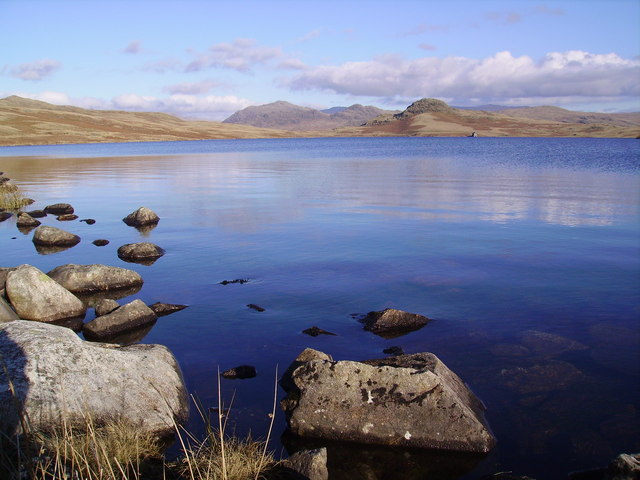 Waterfalls Stanley Force, Birker Force, Cam Spout and Stanley Ghyll
As an aside, Eskdale is blessed with lots of waterfalls. Stanley Force and Birker Force are two that are accessible in the Eskdale Valley. One of our favourites is Cam Spout high above the moorland of the Upper Esk Valley and at the foot of the climb up Scafell. This wispy waterfall is a great spot for a dip in the plunge pool and a picnic before the final ascent of Scafell.
Stanley Ghyll waterfall is a delightful 20-30 minutes walk (approx.) from our cottages in Boot. It is a stunning 60 foot waterfall. Find out more about Stanley Ghyll.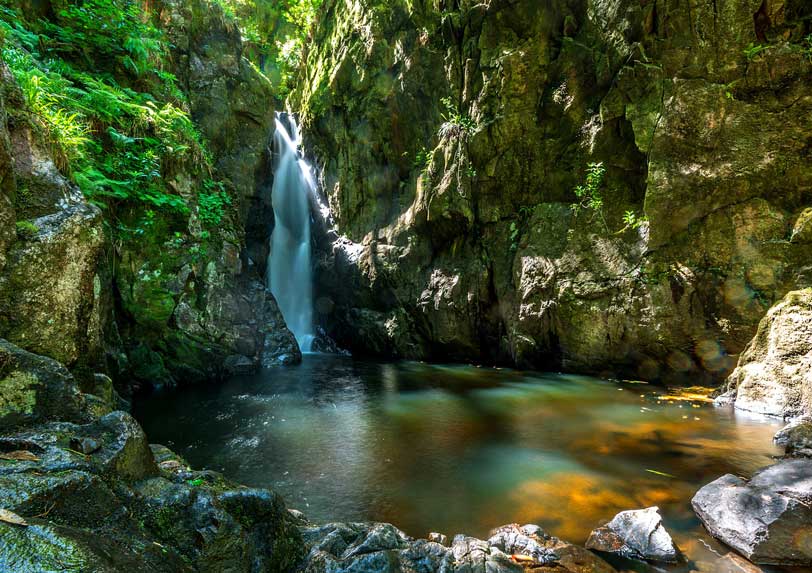 Rock jumping at Tongue Pot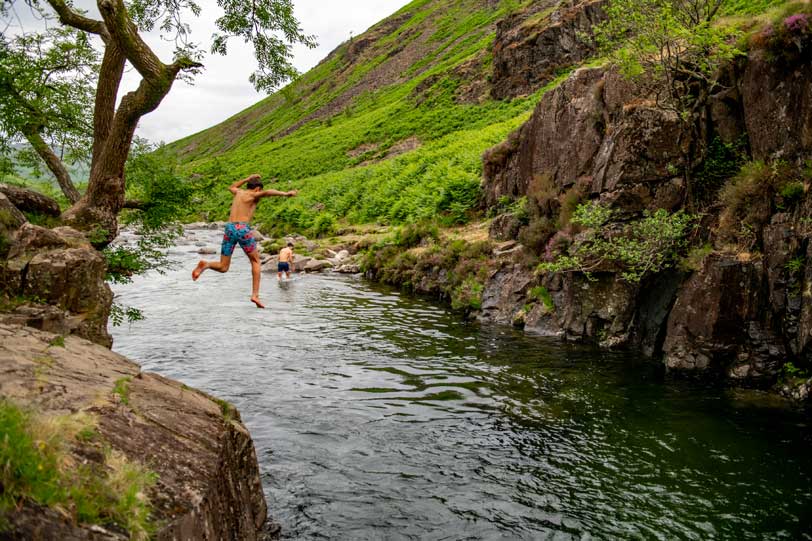 The most famous of Eskdale's wild swimming spots is Tongue Pot. Park at the top of the Esk Valley at the foot of Hardknott Pass. Be sure to check out the amazing Hardknott Roman Fort half way up the Hardknott Pass. It's quite incredible to think that the Romans built such a substantial and strategic fort in such a commanding position above the Eskdale Valley.
So, having parked your car for the walk to Tongue Pot, head past Brotherilkeld Farm along the River Esk for a little under 2 miles (3 kilometres), for approximately 40 minutes enjoying the beautiful Upper Esk Valley with the pyramid peak of mighty Bowfell dominating the vista.
Tongue Pot is just below Lingcove Beck Bridge. Before taking a swim, admire the bridge and the waterfalls beyond. This is also where the Lingcove Beck meets the River Esk.
A couple of hundred metres downstream of the bridge is the large swimming pool of Tongue Pot - arguably the best in the Lake District. It is a large deep pool and there are rocks on both sides that are fun to jump off. On the one side they are around 2 metres high and on the other side around 5 metres high. Be sure to jump out and check no one is beneath you. Tongue Pot is popular in the summer months. We like to go there is the early evening when there are fewer people.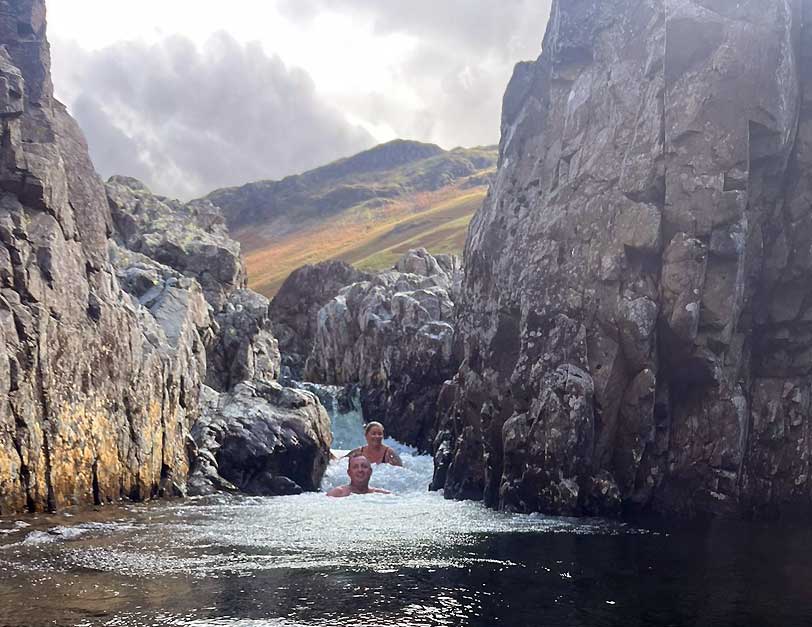 A little further up from Tongue Pot and beyond Lingcove Beck bridge there is a little cave you can swim in with a waterfall running into it - it's beautiful. A little bit of a hike up but it's beautiful. There are several waterfalls to admire too on the climb up by the tumbling Lingcove Beck.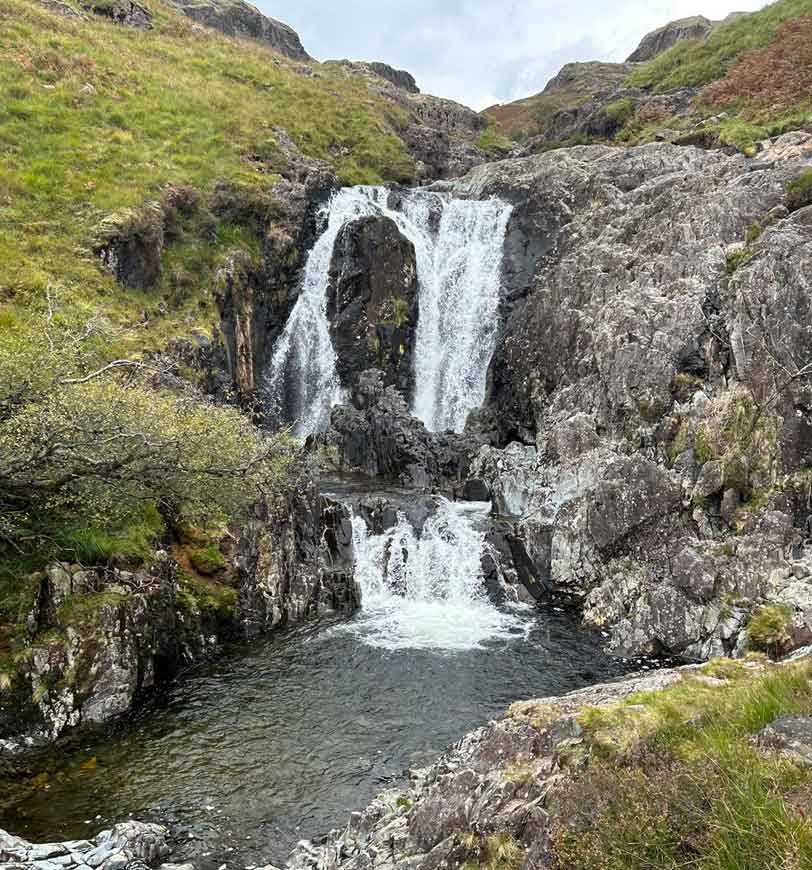 The walk back passes many other cascades and minor water falls and plunge pools, which are well worth a stop and a swim in or when the river is low to sit under the cascading water for a nice neck massage! Although it is around 40 minutes' walk in each direction, it is well worth it and once back at your car you have less than a 10 minute drive back to your luxurious cottage at Bridge End Farm Cottages and a hot shower or bath!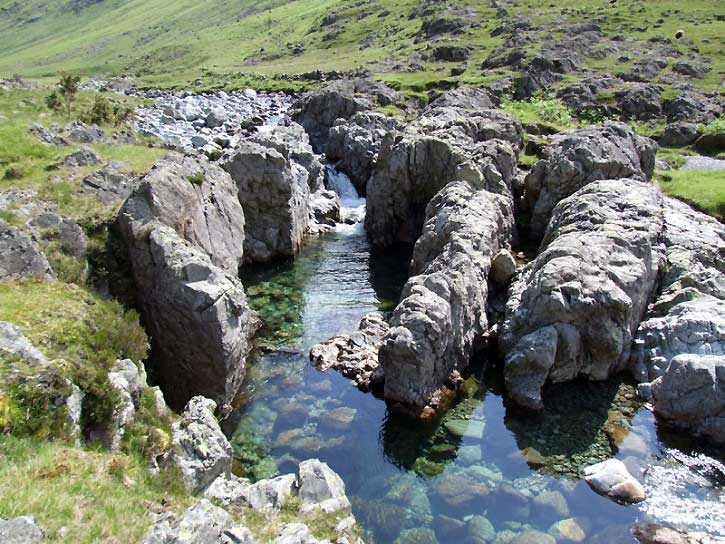 Wild swimming Wastwater Lake, England's deepest lake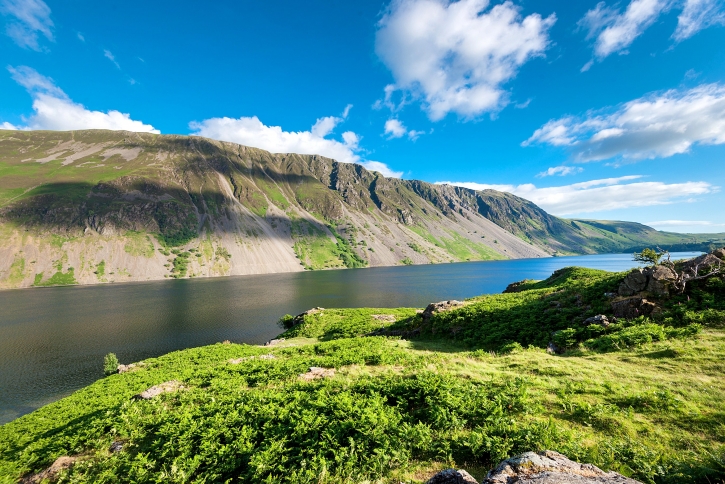 Lastly, there is Wastwater - in Wasdale - the next main valley to Eskdale, where Wastwater Lake is overlooked by the stunning scree slopes falling from the 2000 foot peaks of Whin Ring and Illgill Head. It's England's deepest lake and there are numerous spots to swim in the lake.
It's cold but on a warm day the first couple of feet of water do warm up and the water is crystal clear - perhaps bring some goggles. We like to swim three quarters along the lake, just across a little bridge on the lane to the famous Wasdale Head Inn - the birthplace of British rock climbing where the valley is dominated by mighty mountain peaks.
There is parking and the stream that flows into the lake has created a beached area with shallow water.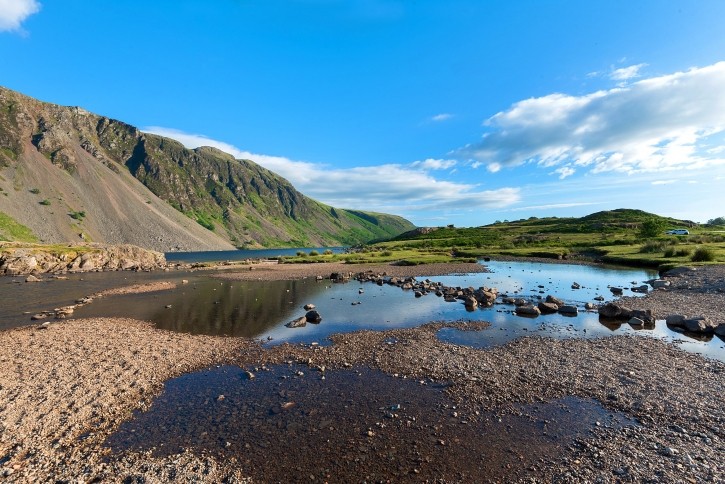 Grab refreshments afterwards in the beer garden at the Wasdale Head Inn (a further 10 minutes' drive) and admire the cute little bridge behind the Inn.
For good outdoor clothing there is the Barn Door Shop sharing the car park with the Inn. A couple of hundred metres away in a pretty glade of trees is the ever so cute St Olaf's Church, England's smallest parish church. Everyone loves Wasdale and Wastwater Lake. 
Wild swimming safely in Eskdale
A caveat. Wild swimming should only be done as part of a group of people, never alone, and when the river level is low and the flow is gentle. Only experienced wild swimmers should swim in the more challenging river spots, lakes and tarns. Swim shoes are advisable and a wetsuit is a good idea if you don't like the cold water. We cannot be held responsible for any accidents, we are merely giving the benefit of our experience safely swimming in the rivers, lakes and tarns of the Western Lakes. Wild swimming does not have lifeguards and you swim at your own risk so: 
Be safe, be aware, be sensible and be responsible. 
Enjoy swimming in the Western Lakes. 
Our holiday cottages in Boot, Eskdale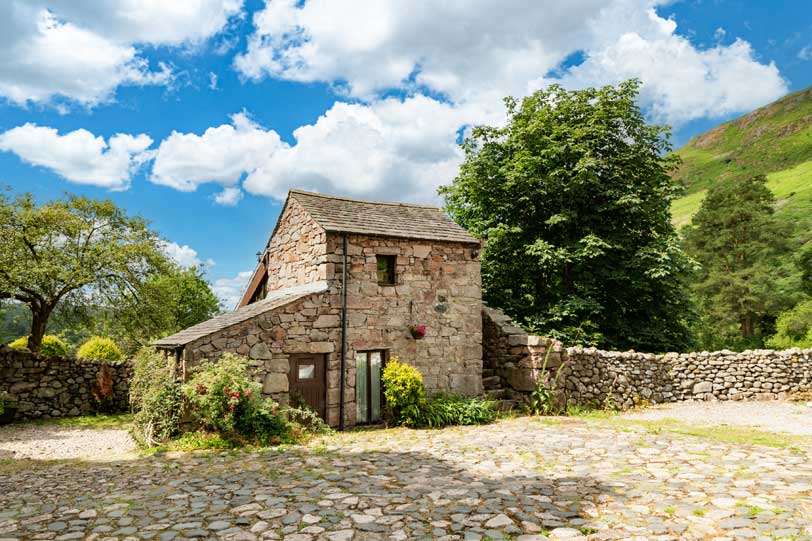 Our charming self-catering holiday cottages in the hamlet of Boot, Eskdale are central to many fantastic wild swimmng locations and endless walks and hikes. If this is the kind of holiday you are looking for, our cottages are a must see.