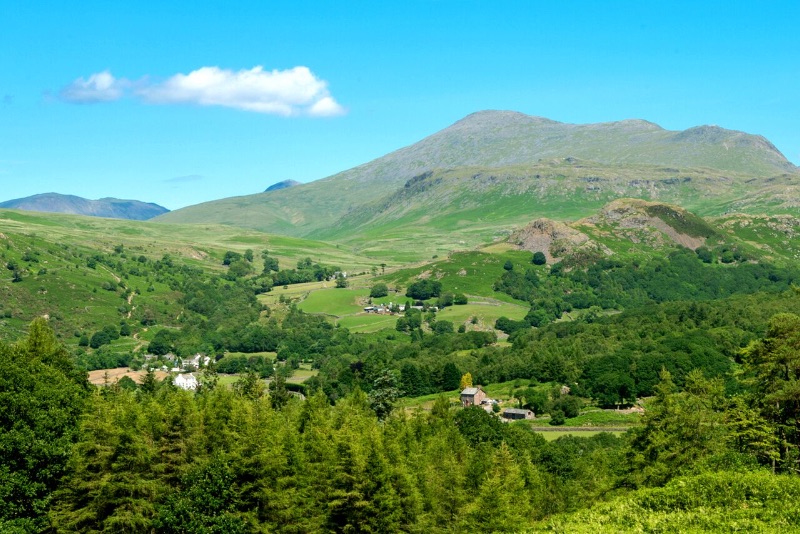 Explore the less trodden path up Scafell, England's second highest mountain
This is the time of year when every Tom, Dick and Harry is setting off to climb Scafell Pike. It's super popular with 3 Peaks Climbers and many thousands will climb the mountain this month and next. Yes, it is England's highest mountain, but is a boulder field at the top and you certainly won't be alone up there.
We've all read about Everest being over climbed and the rubbish accumulating around Everest. I'm not saying Scafell Pike is like this but there is a downside to the huge number of visitors climbing the mountain.
I guess we all have to climb it to say we've done it, but spare a thought for its magnificent and massive neighbour Scafell. It is only 14 metres lower - not much more than the high board the divers gracefully dive from at the Olympics - yet it is a more massive massif and a real delight with something like 15 times fewer visitors each year. The views are sublime and there is a fantastic circular route from Eskdale to the top of Scafell and back down and whilst at the top you can look across at the hordes on Scafell Pike.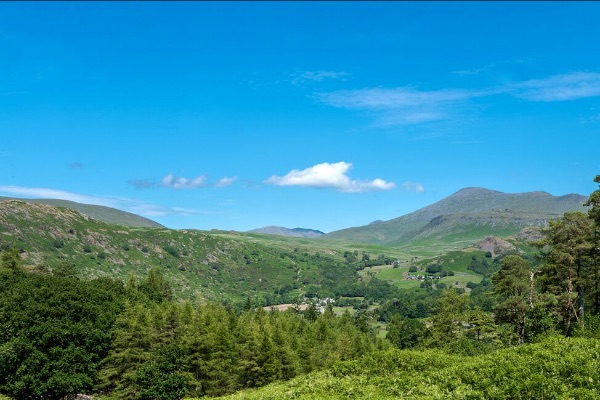 Boot village nestled beneath mighty Scafell
With 7 of England's 10 highest mountains all close to our Eskdale holiday cottages, the South Western Lake District, there are plenty of alternatives to the busy Pike. As well as Scafell, how about the pyramid shaped Bowfell at the head of the Eskdale Valley or the panoramic views from the top of Great Gable - to name but two of our favourites. 
All the big mountains command respect and should only be tackled by fit seasoned walkers with good boots and clothing and preferably climbed in the warmer months of the year.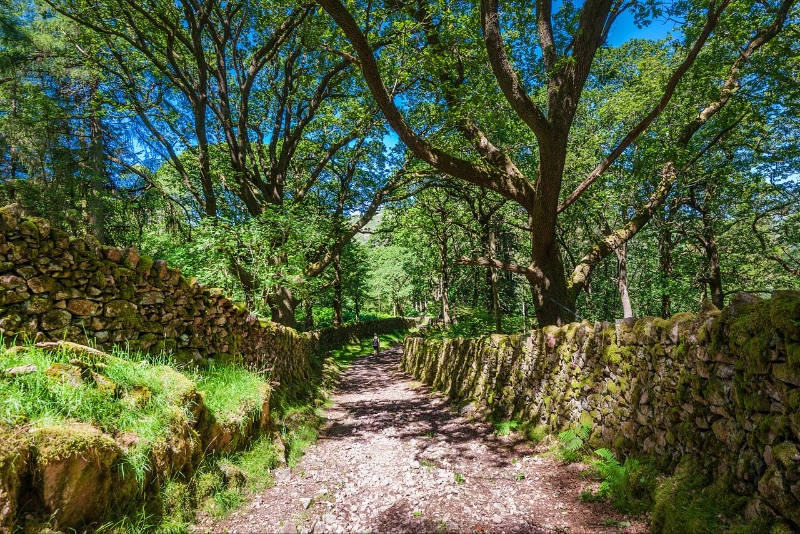 Enjoy many a magical walk from our doorstep
Our guide for a truly memorable and rewarding day climbing Scafell, near Scafell Pike, starting at our cottages in the village of Boot.
Take the Ordnance Survey 1 to 25,000 scale map of the South West Lakes, a compass, good walking boots, warm clothing, the right hiking apparel, plenty of food and lots of water. 
Drive the 1.5 miles from Boot towards Hardknott Pass, go past the Woolpack Inn and another half mile further to the parking area on the left just before Wha House Bridge. The purists can walk from Boot along the road or along the River Esk to the Woolpack Pub and the final half mile to the parking area.
From the parking area near Wha House Bridge take the level path past Scale Bridge and waterfall up a short ascent onto Great Moss where there are superb views of Upper Eskdale, keep hiking on this grand flat expanse till you get to Cam Spout waterfall.
From Cam Spout waterfall you hike up the zig zag path for a few minutes before it flattens out. Carry on and take the short hike up the gully to Foxes Tarn and from here the final push onto the summit of Scafell.
Return via Slight Side which has fabulous views west towards the Isle of Man and on a really clear day you can just glimpse Ireland.  The path brings you back to the Wha House Bridge car park. It's about a 7 hour hike and being a circular route the terrain is continuously different and the views ever changing but always beautiful.
A well earned beer can be downed at the Woolpack Inn or return to Boot for refreshments!  
If you are set on Scafell Pike and are fairly new to hiking, it is best climbed from Wasdale Head. For those experienced hikers with a head for heights might wish to try the hike up Lingmell on the way up to Scafell Pike but we stress this is only for experienced hikers.
For those looking for something easier there is Harter Fell here in the Eskdale Valley and seen from Boot which is only a 4 hour return walk from Bridge End Farm Cottages to the summit where you have 360 degree views and a fantastic bird's eye view of Hardknott Roman Fort. Alternatively, and even easier, there are countless riverside, meadow and woodland walks in the valley.
We have neolithic and Bronze Age stone circles, dating back 5000 and 3500 years, a Roman Fort dating back nearly 2000 years, historic peat huts dating back several hundred years, beautiful rivers, stunning waterfalls rock pools for swimming and countless walks and viewpoints all here in "Glorious Eskdale".
If you wish for a more detailed description or have any questions please get in touch.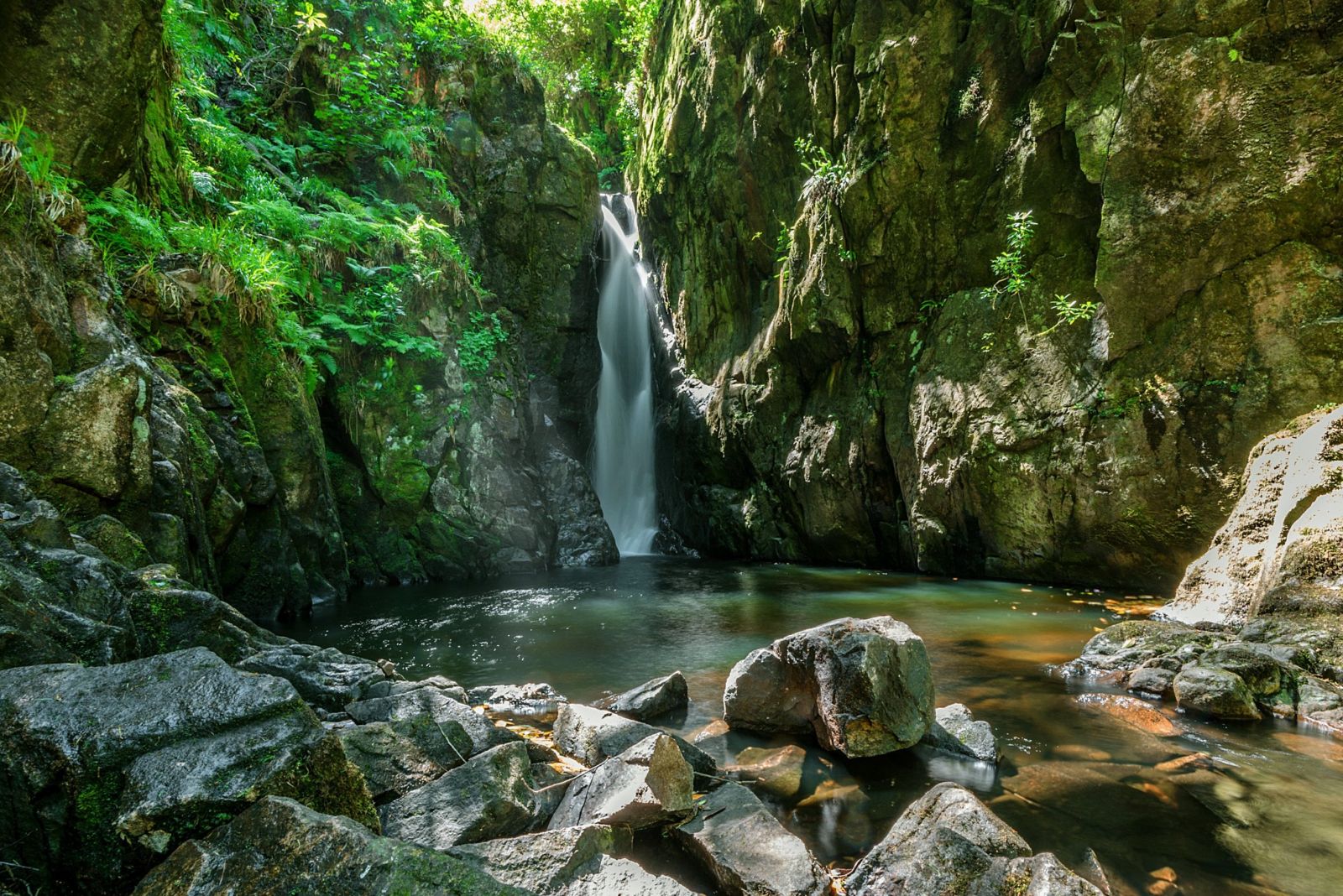 Stanley Ghyll 60ft waterfall is a stunning,shorter walk from the cottages