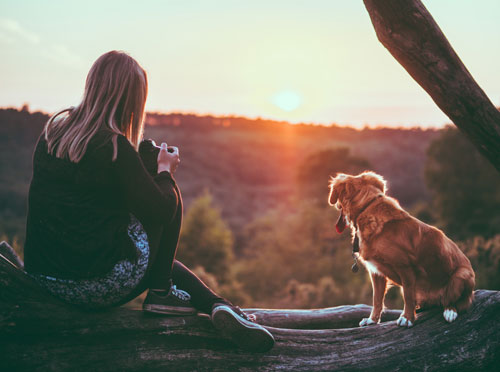 At Bridge End Farm Cottages, in Boot, Eskdale, we recognise that many visitors wish to bring their 4 legged family members with them on holiday.
With this in mind we have two cottages - The Farmhouse and Wrynose Cottage - which are pet friendly.
The Farmhouse, our large 4 bedroom house sleeping up to 8 guests, can take 2 well behaved dogs. The Farmouse has it's own private garden, where the dog can  relax with you.
Wrynose Cottage, sleeping two, can take one well behaved dog. No puppies please.
We provide doggy treats and other useful things for the perfect dog friendly holiday in Eskdale.
As soon as you step out of your cottage door, dog walks abound! Easy walks, hard walks, steep walks, walks along rivers and lakes, quaint lane walks and much more.
There is a dog poop bin in Boot village and many places in the Lake District have the bins for you to put your doggie poos in.
Most pubs in the Eskdale valley accept well behaved dogs on a lead and they all have beer gardens.
The Ravenglass and Eskdale narrow gauge steam railway (5 minutes' walk from the cottages) has carriages in which you can take your dog, so head off to Ravenglass for a dog run along the beach or to Muncaster Castle or any other of the stops along the way where you can take your dog for a long walk.   
If both of our dog friendly cottages are already booked please ask us about alternatives as we do have two cottages where in exceptional circumstances we can accommodate a dog. 
If you have a specific question about bringing your dog on holiday to Eskdale, please contact us and we will advise on the most appropriate cottage for your needs.
If you do bring your dogs on holiday they will need to be walked on a lead as this is farming country and the farmers do not take kindly to sheep being chased by dogs.